Going camping is a very fulfilling experience as it makes one shun away from the daily work and life routine. Camping brings a lot of benefits to those who participate in it. Such benefits include; fresh air generated from many trees found in a camping site, it enhances socialization, improves one's mood, and reduces stress among many other benefits. Camping requires a number of items so as it can be successful and also memorable. Tents are just one of these essential items, but apart from tents, sleeping bags are also very basic so as one can enjoy their camping trip. Sleeping bags enable you and your troop to sleep peaceful and also comfortably even though you are away from home.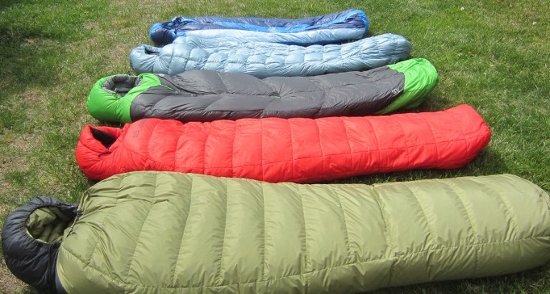 Factors to choose the best sleeping bags
When you make up your mind on getting a sleeping bag for your next camping trip, you need to bear some important factors into your mind. These factors will enable you get value for your money since you will be able to achieve your desired goal. They include:
1. Temperature ratings
Consider a sleeping bag rated almost 10 degrees lower than the lowest temperature encountered on camping trips if you are a warm-nature person. A cold-nature person will require a sleeping bag rated 25 degrees lower than the coldest nights on the trips.
2. Insulation
Consider settling for a synthetic insulated bag if you are going to camp in wet areas where you obviously expect your bag to get wet and drying the bag will not be easy. However such sleeping bags are mostly heavy and quite uncomfortable. If you are in for comfort and you are camping in a dry area, then the best insulation for your sleeping bag will be down insulated bag.
3. Weight
If you are backpacking consider selecting a sleeping bag which is lighter. This will not down weigh especially if you are mountain climbing. In car camping, the weight of the bag does not really matter.
4. Hood
Consider buying a sleeping bag which has a good hood especially if you are a cold-nature person or you going to camp in a very cold place. The hood should be easy to adjust and be able to cover your face.
5. Try before you buy
To ensure that you get the right type and size of sleeping bag, try getting in and out of the bag before you settle for one that best suits you.
6. Closure
Before buying a sleeping bag, ensure you try out the zip severally so that you can establish earlier if the zipper has any problem before it is too late in the field.
7. Shape
Consider a mummy shaped sleeping bag since it is wider on the shoulders and narrower on the feet, this ensures that you are comfortable and also less air needs to heated in the sleeping bag.
8. Fit
Select a bag that perfectly fits you in terms of height and also width.
Benefits of having the best sleeping bags
Having a good sleeping bag during your camping has a number of benefits to a person. These include:
A good sleeping bag enables a camper to keep warm during cold night sleep in the camp, which would otherwise be difficult without one.
Sleeping bags are very convenient to campers since they are not very heavy as compared to a normal mattress.
Sleeping bags are always two in one such that you don't have to carry a blanket, with a sleeping bag you are good to go.
With a good sleeping bag, you can comfortably get a good sleep as they reduce the pressure between your body and the hard ground thereby making you more comfy.
With a sleeping bag, you cannot easily be stung by an insect since you are inside the sleeping bag.
Conclusion
The best sleeping bag is suitable for providing warmth to campers during their adventure. Sleeping bags are also suitable as they save on effort and space of carrying mattresses and blankets which can be quite heavy. Some of the best sleeping bags found on the Amazon website include: Brazos Sleeping bag (Coleman), Double sleeping bag with two pillows (Ohuhu). Visit the website and get what best suites you and have a very new camping experience.
To buy this product, click below button: