Wall ovens have become very popular and most preferred by many people. They are directly built into your kitchen wall and can effectively work from there. Unlike other bulky kitchen ovens available, wall ovens have an aesthetic value to your kitchen and also save greatly on space. This is mostly perfect for smaller kitchen whose space is greatly limited. These appliances are very vital in cooking and also warming up. They also ensure that you don't strain bending to get your dishes from the oven. This is mostly the case in the other conventional ovens.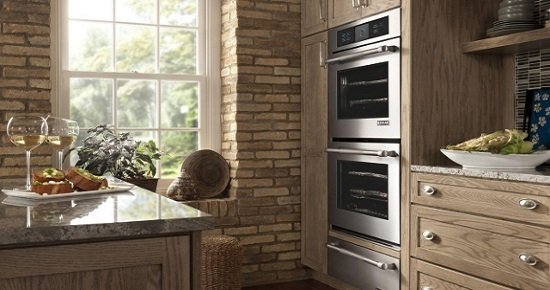 Factors to consider when choosing best wall ovens
Getting the best wall oven for your kitchen is not an easy task. A number of factors must be considered so as to get the most out of your newly installed wall oven. These factors include:
1. Source of power
If you don't have electricity supply in your home, the best option of wall oven for you would be a gas wall oven. This does not require electricity but gas to work. However you can still prefer to get a gas wall oven even when there is an electric power supply. Electric wall ovens are mostly the option in places where there is constant electricity supply.
2. Convection cooking
Settle for a wall oven that offers convection cooking whereby cooking speed is increased by moving air.
3. Space
If you have a large family or often have visitors, consider buying a double wall oven. This will allow you enough space to cook every food without having to crowd your kitchen. If not, settle for a single wall oven as they are not as expensive as double wall oven.
4. Simple to use
Consider a wall oven that has simple and easy features to use. Such features include; audible preheat alert, timer and also a covered element for easy cleanup.
5. Size
Ensure that you have the correct measurements of your wall cut out space so as to ensure that the wall oven you choose will perfectly fit.
6. Accessibility
Ensure that the controls of the oven are visible and easy to reach, and the height of the door prevents frequent unnecessary bending.
7. Cleaning
You can consider an automatic cleaning wall oven, if you are a forgetful person such that you may forget to clean your unit. Although a model with this feature will cost you more. A manual cleaning model is cheaper but requires frequent cleaning to avoid cross contamination of food.
8. Installation
Ensure that you get an expert to help you install your wall oven so as to ensure that they are perfectly installed and won't cause any problem.
Benefits of the best wall ovens
Having a wall oven comes with a number of benefits. Such benefits include:
Wall oven greatly save on space as they are built on the kitchen wall rather than placed on the floor. This is a greater benefit especially for smaller kitchens.
With a wall oven, you are saved the trouble of bending over to check on food or even put it in the oven. This is much safer because it reduces the chances of getting burnt while checking on food.
A wall oven boosts the aesthetic value of your kitchen. Most wall ovens have a beautiful finish which appears very elegant and classy.
Conclusion
Wall ovens are suitable most especially to people who have smaller kitchen and need to save on space. They are also very suitable for aesthetic value and also boosting the classiness of your kitchen. There are a number of models of wall ovens that one can comfortably choose from. Amazon offers some of these wall oven; Gallery 27'' Stainless steel Electric Wall oven (Frigidaire) among others. Visit the website and make your choice.
To buy this product, click below button: